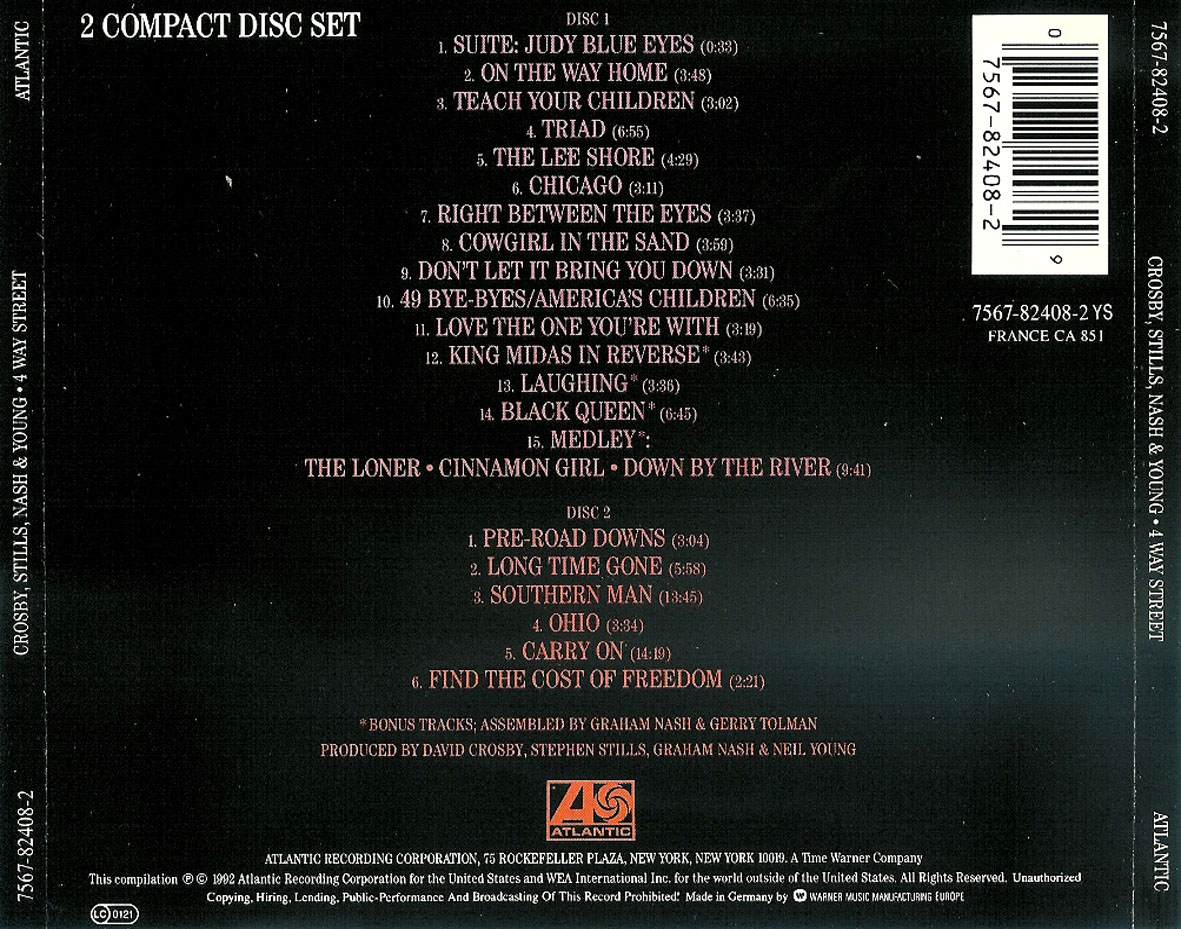 Expanded by almos
s, t
t 40 minutehe double-CD version of
4 Way Street
simply built on the existing foundation of a landmark live album, and for a change, there was no diminishing of the original release.
Crosby, Stills, Nash & Young
had come out of Woodstock as the hottest new music act on the planet, and followed it up with
Deja Vu
, recorded across the second half of 1969 and released in March of 1970, supported by a tour in the summer of that year. As it happened, despite some phenomenal music-making, the tour was fraught with personal conflicts, and the quartet split up upon its completion. And
4 Way Street
followed, released in April of 1971: a live double-LP set, chock-full of superb music distilled down from a bunch of nights on that tour that more than fulfilled the promise of the group. Indeed, contained on those original four LP sides was the embodiment of everything great that the unique ethos behind this group -- which was not a "group" but four individuals working together -- might have yielded. Each of the participants got to show off a significant chunk of his best work, whether presented alone or in tandem with the others, and the shared repertory -- "Long Time Gone," "Ohio" etc. -- binding it all together as more than a documentary of some joint appearances. Conceptually it was all as diffuse as the concept behind the group, but musically,
4 Way Street
was one of the great live rock documents of its time, a status it retains along with such touchstones as
the Allman Brothers
'
At Fillmore East
, the live half of the
Cream
's
Wheels of Fire
, and the
Grateful Dead
's
Live/Dead
; some of the extended guitar jams between
Stills
and
Young
("Southern Man") go on longer than strict musical sense would dictate, but it seemed right at the time, and they capture a form that was far more abused in other hands after this group broke up. Although
Neil Young
and
Stephen Stills
had the advantage of the highest wattage on their songs and their jams together,
David Crosby
and
Graham Nash
more than manage to hold their own, not only with some strong and distinctive songs, but also a strong case that less could be more; they reached the more introspective members of their audience, mostly individually, while
Stills
and
Young
wowed the crowds collectively. The double-CD version adds more acoustic material by each of the participants, which gives a fuller picture of what they were all about musically --
Nash
's acoustic rendition of "King Midas in Reverse" doesn't slot in too easily next to the earthier
Crosby, Stills & Young
originals, but it also adds a welcome British psychedelic pop interlude to the proceedings. The essentials of the original album are all intact, and all in better sound.